The Prairies: A Long Stretch


After the grewling mountains comes the endless pairies. But it is far from flat, and far from boring. This was a journey of discovery and loss, as much as the last one was a journey of friendship found.

The Albera Trek



Day 19: Banff What is left of the posse rides together.
Day 20: To Calgary The last hurrah, and the breaking of the brief fellowship. I end up in Calgary, alone.
Day 21: In Search of Vulcans After hearing about Vulcan, Alberta... I just couldn't resist, but an impending storm hinders the journey.
Day 22: My Aunt Elaine After meeting some Vulcans, I find my way to my aunt's.
Day 23-27: Layover 2 Some quality time with family, some wonderful sights, and some unforseen revelations
Day 28: The Hardest Departure It's always hardest to leave when you start to feel at home.



Slipping Through Sasketewananwan...



Day 29: Saskatewaa.. Saskatate... The Next Province I never could spell that name.
Day 30: Pain and Wonder The knee gets worse, but I find a kewl free campground by a salt lake.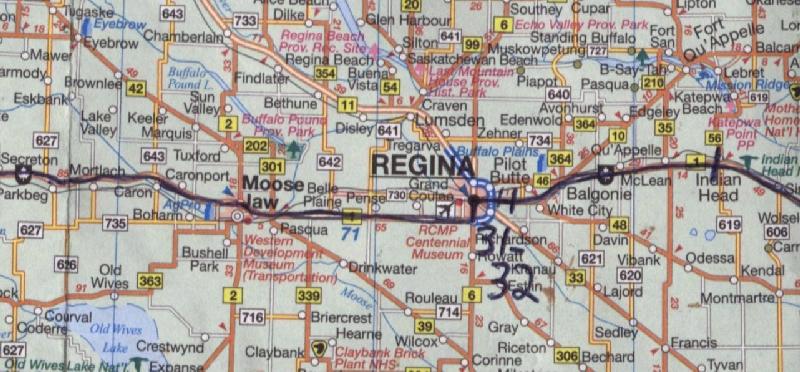 Day 31: Regina and the First All Nighter On the Halifax trip I did this because I had no choice. Now I do it on purpose.
Day 32: A Day In Regina Wandering through the museums, hooking onto the internet, stuff like that.
Day 33: On the Trail of Companions Rumours abound of lost companions.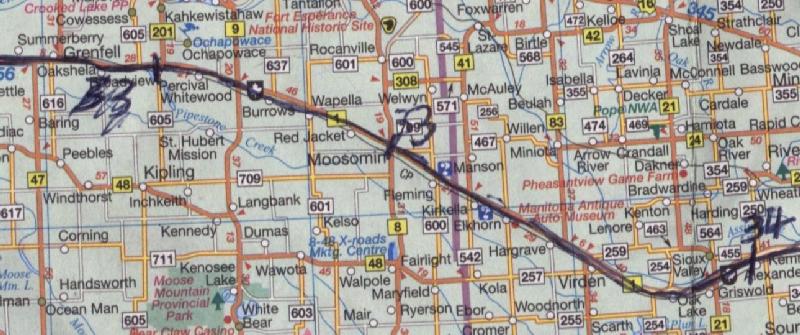 Moving Through Manitoba



Day 34: A Cool Farm Horses, happy dogs, and a cool barn.
Day 35: By The Agricultural Museum I manage to mooch off some people from Quebec.
Day 36: THE WRATH OF GOD It's years later, and I'm still wet.
Day 37-38: A Couple Days In Winnipeg A nice little hostle here, a much needed rest.
Day 39: Last Day On The Pairies But it's already looking like Ontario


Forward To Ontario and Quebec...